Archives for the month January 2021 of Genesis8 Amstrad Page
CPCemu v2.0, an Amstrad CPC emulator by Rainer Loritz is available
-
CPCemu initially written for msdos by Marco Vieth then Rainer Loritz wrote the linux and windows version using the original source code.
Rainer has just released CPCemu v2.0 after several years since the last version. It's available for MacOS, Android, iOS, Linux (x86_64 and ARM, in particular on Raspberry Pi) and Windows.
This new version was tested by Marco Vieth, thanks to him.
CPCEC, an Amstrad CPC emulator for windows by CNGSoft, fix 19th release
-
CPCEC (windows) is a new Amstrad CPC emulator by CNGSOFT first released in 2019, which replaces CPCE (dos/windows). This 19th version (fixed) was released the 7th January 2021.
This new version brings a minor patch fixing a bug in the ASIC's screen split trigger (SSSL must be checked when HSYNC rises, rather than when HDISP rises) and a glitch in the Win32 joystick support, and making the Playcity CTC more responsive.
Joyce v2.2.14 by John Elliott, an Amstrad PCW emulator
-
The Amstrad PCW emulator Joyce v2.2.14 by John Elliott already available for unix and windows, and now also on MacOS.
New in this version : Fixes autodetection of extended DSK files, display artefacts when colours are changed while video is disabled, and Rosanne checksum detection when the ROM is patched.
dMagnetic v0.29, a Magnetic Scrolls emulator by Dettus for various BSD and Linux distributions
-
dMagnetic v0.29 by Dettus is available for several versions of Unix (BSD, Ubuntu, Debian, Gentoo) with ANSI drawing in a terminal. This utility lets you play adventure games by Magnetic Scrolls. This version adds support for extended DSK.
The emulator is using the original files of the games for Amstrad CPC, C64, msdos, windows (1991 compilation), .MAG et .GFX files on the magnetic scrolls memorial.
Caprice Forever v2021-1, an Amstrad CPC emulator by Frédéric Coste for Windows
-
Caprice Forever v2021-1 by Frédéric Coste is a modified version of the Caprice emulator (by Ulrich Doewich) for windows (32/64 bit).
Add Multiplay Mouse emulation
Add cursor capture option to improve mouse emulation
Support X-Mem SST flash memory
Add Simple Poke Window
Fix minor bugs
WAV2AY by Roudoudou, an interesting audio utility
-
Music remix of Cybernoid 2 by Jeroen Tel
-
New version of the CPC assembler Orgams 'Ecstatic Endeavour' Release Candidate
-
When you have a wonderful wife...
-
When you have a wonderful wife, here is what you can receive as a Christmas gift : Amstrad CPC 6128 socks !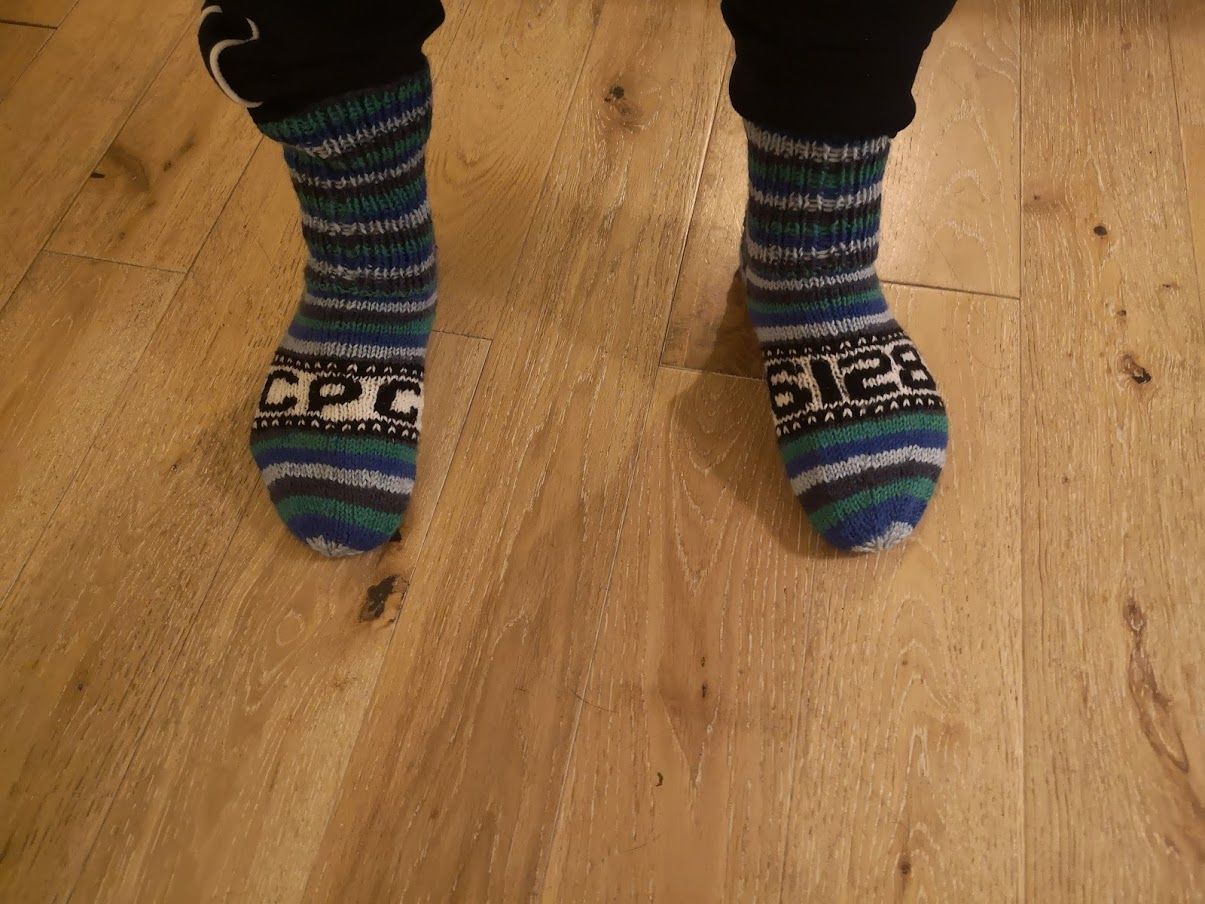 A RPG game for Amstrad CPC plus by Zisquier
-
In 2019, Zisquier began to learn Z80 assembly and started to write an RPG game for the Amstrad CPC plus that you can now download on Amstrad.EU.
CPC Soccer by Voxeltower available for Dandanator
-
The football game CPC Soccer by Voxeltower is available for tape, disk, CPC+ cartridge and now Dandanator.
CapriceESP32 v0.7.9 by Millim, an Amstrad CPC emulator on Odroid Go
-
A new version of the Amstrad CPC emulator for Odroid Go by Millim : CapriceESP32 is available (v0.7.9).
It features mute sound and support for cheating (read documentation for using it). To access both features use the Menu Key + B, then Menu Key + Down arrow.
You must put the directory /cpc at the base of the Odroid SD card (especially /cpc/dsk), the .FW will be in /odroid/firmware as usual.
I recommand to read the documentation of CapriceESP32. You must use the Menu key + B to access the .DSK directory then Menu + right arrow to go to the file list, select file with A, press Menu + B once again to launch the selected file. To use the virtual keyboard, press Menu + A and once again to remove it. There is no sound mute at the moment. If you want to reset the emulator, just choose another disk and file to execute.
The new version features :
Key mapping file support, identical to the C64/Schumi structure (see documentation)
Volume control for the internal speaker. By pressing VOL button together with one key ( left, right, up, or down) will increase/decrease by 1 or 10
Bluetooth Audio support. Now you can stream the emulator sound in Stereo to Speaker or Headphone, wirelessly
Added a simple 8bit style OSD aka 1986
Improved SD card access by adding SPI Mutex access control
Perfectly accurate Z80 flags and CPC timing on 64 NOPS
-
A new articles is available on 64 NOPS, a blog about programmation on Amstrad CPC by Hicks (Vanity) and Toms (Pulpo Corrosivo). The subject of the article is : Perfectly accurate Z80 flags and CPC timing.
A speedrun of Bob Winner by Kukulcan in 8 minutes 54 seconds on Amstrad CPC
-
For more news, Go to home page