October 2005 archives of Genesis8 Amstrad Page
10/30/2005 - 01:41 - Genesis8
Games with new starting pictures
You will find on Phenix Informatique Amstrad CPC games, nothing exceptionnal you would say, but this time they have new loading screens by NinXpe.
10/30/2005 - 01:29 - Genesis8
Amstrad ESP moved
The spanish web site Amstrad ESP has changed its address.
10/30/2005 - 01:04 - Genesis8
SymStudio v0.7 is out !
SymStudio is an IDE to create a SymbOS program. You can create forms (windows) in a very comfortable way with drag and drop features, write code, use libraries and assemble and compile complete applications, which will be directly transfered to a CPC emulator. Also an image converter and manager is included. Also it has AVI / MPEG video capture and conversion into CPC modes 0/1.
Of course the developer documentation for SymbOS could interest you.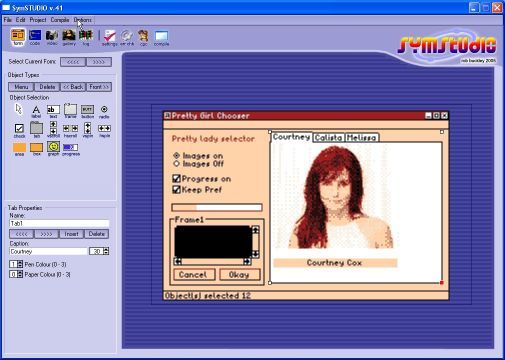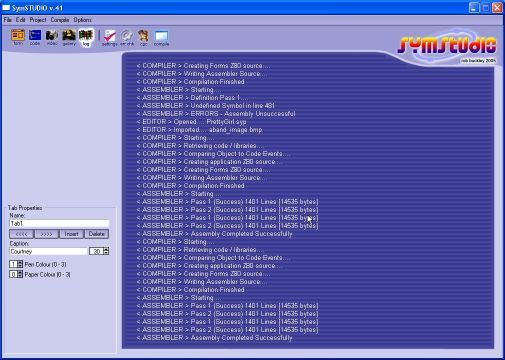 10/30/2005 - 01:01 - Genesis8
Where do they live ?
Frappr! is a web site which let show you where sceners are living geographically. You dont need to need to subsribe to add yourself.
10/16/2005 - 14:25 - Genesis8
ROM Arkos v1.0
Arkos has released at the end of august the Arkos ROM v1.0, you will find below its features :
WriteDSK 1.2 : Allows to transfer a DSK from a 720k MS DOS disc to the CPC, or directly from the PC with the CPCBooster.
ReadDSK 1.0 : Generates a DSK of the current CPC disc to the PC.
GetFile / SendFile : Send any file, binary, basic or ascii, between the PC and the CPC !
SetBoot : Defines a file as 'boot'. Once done, a simple CAT (+Shift) on your disc and the file will run automatically !
Includes a CRTC Test at boot.
The ROM has also other useful features like Burn, Load, View, Memory, which should help programmers. With the upcoming v1.1 you will find snashopts transfer from the PC to the CPC. Documentation is included in the ROM where you will find more informations.
15/10/2005 - 18:34 - Genesis8
Old news
Some old news, there is a new emulator for symbian phones, a port of Win-CPC. It's S60-CPC which works at least on Siemens SX1 and Nokia 6600.
15/10/2005 - 18:29 - Genesis8
Amstradeus
The Amstrad.CPC site has changed its address to become now Amstradeus. It's one of the few Amstrad bilingual sites.
10/13/2005 - 23:45 - Genesis8
a meeting CPC AT WORK !
One more meeting organised by Eliot in France at Coutances starting from 11th to 13th November 2005.
It's always the same place at "l'Espace Jeunes". Participation fee is 8 € each day, including meals with too much food at unusual hours, rooms with real bed, and even rushing water to clean yourself.
10/13/2005 - 23:05 - Genesis8
CPC Game Reviews
CPC Game Reviews has 29 new reviews of Amstrad CPC games.
Please follow this link to read the archives of the past months